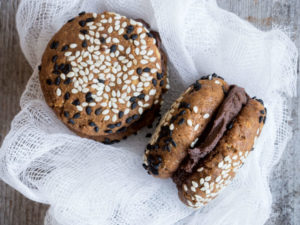 This wholesome ode to the packaged cream pie cookie combines a very grown-up flavour combination of warming spices, molasses, chocolate, and sesame. Vegan, unprocessed, and free of added refined sugars, it's a nostalgic tribute that still feels like a treat. Molasses keeps the cookies chewy for a few days.
Tip
Use white chocolate instead of dark for a sweet, caramelized flavour that marries beautifully with ginger and tahini. And, if it's handy, a grating of orange zest in the filling is tasty in both dark and white chocolate versions.
Ingredients
Cookies
1/4 cup (60 mL) water
1 Tbsp (15 mL) ground flaxseed
1/2 cup (125 mL) coconut oil, melted
1/2 cup (125 mL) fancy molasses
1 tsp (5 mL) vanilla extract
2 cups (500 mL) dark or light spelt flour or gluten-free all-purpose flour
1/2 cup (125 mL) quick-cooking, gluten-free rolled oats
1 Tbsp (15 mL) ground dried ginger
1 tsp (5 mL) ground cinnamon
1/2 tsp (2 mL) ground cardamom
1/4 tsp (1 mL) ground cloves
1 tsp (5 mL) baking powder
1 tsp (5 mL) baking soda
1/2 tsp (2 mL) salt
2 tsp (10 mL) black or white sesame seeds
Filling
1/3 cup (80 mL) canned coconut milk
1/3 cup (80 mL) dark chocolate chips
1 Tbsp (15 mL) tahini
1 tsp (5 mL) vanilla extract
1/2 tsp (2 mL) ground ginger
Directions
For cookies, in small bowl, combine water and ground flaxseed. Set aside for 10 minutes. In large bowl, combine soaked, ground flaxseed and its water with coconut oil, molasses, and vanilla. In medium bowl, combine remaining dry ingredients except sesame seeds. Stir dry mixture into wet coconut oil mixture. Set aside for 10 minutes.
Preheat oven to 350 F (180 C).
Roll dough into 24 cookies. Tap cookies into sesame seeds to sparsely coat the top, and evenly space cookies on two large rimmed baking sheets. Gently press cookies with bottom of flat glass for cookies about 1/4 to 1/2 in (0.6 to 1.25 cm) tall.
Bake cookies for 5 minutes, rotate pans (top to bottom, bottom to top), and bake for an additional 5 minutes, or until dry on top and cracked on the surface. Cool completely on wire rack. Meanwhile, make filling.
For filling, in small saucepan, bring coconut milk to a boil. Immediately remove from heat and add chocolate, whisking until melted and combined. Whisk in tahini, vanilla, and ginger. Transfer to shallow bowl and chill until firm but pliable, about 30 minutes.
To assemble, vigorously whisk filling until smooth (let stand at room temperature for a few minutes if too cold). Spread filling on bottoms of 12 cookies; sandwich with remaining 12 cookies. Store loosely covered at room temperature for up to 3 days.
Each serving contains: 249 calories; 4 g protein; 13 g total fat (9 g sat. fat, 0 g trans fat); 32 g total carbohydrates (11 g sugars, 4 g fibre); 239 mg sodium